INTRODUCTION:


Risto Sports is a small boutique company that has been making Olympic weightlifting shoes and various accessories since 2008. In that time Risto has weathered the typical challenges most new startups face and emerged a solid contender in the weightlifting shoe market. Despite a few production problems that resulted in relocating their manufacturing operations, Risto has held true to their values and continue to make quality shoes in a socially and environmentally responsible manner.
With growing pains behind them it appears they have finally hit their stride with their newest model of lifting shoe, the Risto Olimpico. These are made by hand in Ecuador using local materials and workers that are fairly treated (they even have health insurance!). This may mean little to some of you but I find it nice to know that the company isn't using near-slave labor to produce their products.
This third update to the Risto design shows a maturity of the brand as a whole. In lieu of just revising their previous model, Risto opted for an entirely new design that takes some of the best features from other models and combines them with experienced refinements.
CONSTRUCTION & STYLING:
The Olimpico is an entirely new design for Risto, so it doesn't have much in common with any of the previous models. The styling is still sleek and fairly minimal and the color options are similar; black with silver accents, white with black accents and, of course, Risto's famous pink shoe (Risto was the first company to make a pink weightlifting shoe).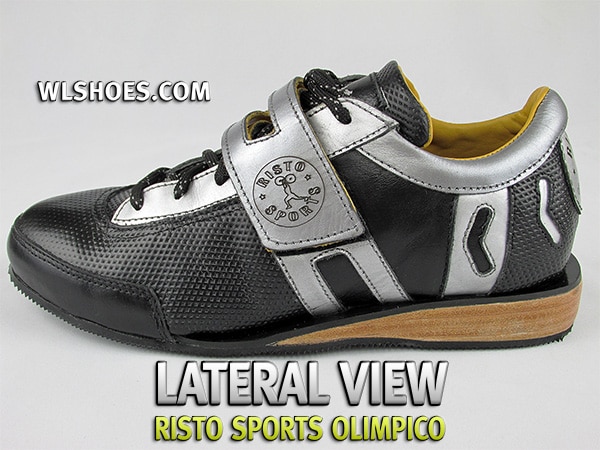 The one component that has remained is the quality leather, something Risto is well known for, and the Olimpico displays some of the best leatherwork I've seen yet. Leather quality would be important for this model since the entire shoe is constructed of it; the only thing that isn't leather is the sole and the shoe strings!
The leather used in the upper is surprisingly supple and features a stippled design that gives a nice texture to the shoe. The toe cap at the front of the shoe is made from a single strip of leather and reinforces the toe box. Since the material is double thickness in this area, it makes the shoe feel tighter at first. But just like a good pair of real leather dress shoes, these stretch over time and actually produce a wider than average toe box.
Unfortunately the upper does not have a ventilation system built in to allow the foot to breathe. Considering this is an all leather shoe I'm surprised it doesn't have at least pinhole vents. I see this as a minor design flaw that Risto should look into correcting. Not a deal breaker by any means, but your feet do get pretty hot in these.


The three test and evaluation pairs I received all had high quality laces, although a bit long for my taste, it was easily remedied by double-knotting them. The single strap is again made of leather and displays an etched circular "Risto Sports" logo that gives the shoe a bit of flair without looking gaudy. The strap is positioned nicely on the foot; not as high as to limit ankle mobility but not too low to allow foot slippage.
The strap is an area where I can see another possible issue though. The design of it features a cut-out in the center of the strap and about 1.5 inches of Velcro at the end of the strap. Over time, the leather strap began to stretch on me and less and less velcro actually made contact. I've made a recommendation to Risto that they should either make the strap thicker so it will not stretch, or do away with the center cut out and use Velcro across the entire strap. They've been pretty good about implementing customer feedback so we'll see if these changes show up in future runs.
While we're discussing laces and straps, Risto has removed the "laces loop" that you find commonly located on the tongue of most shoes. This is there to prevent the tongue of the shoe from sliding to the side of your ankle during a workout. When I contacted Risto about this they informed me that it was a decision they made to lengthen the life of the leather tongue. I suppose a small nuisance is worth the shoes lasting longer, although I would like to see Risto come up with a solution for this as well.


One huge improvement Risto has made is to place the eyelets on the INSIDE of the shoe. This prevents them from being pulled out of place when tightening the strings. They have also reinforced the strap anchors with extra stitching to prevent them from tearing loose. So those of you that like to strap your shoes on tight enough to make your toenails bleed have less to worry about, although I still recommend taking it easy – no leather is indestructible.
The heel on the new Ristos is still made of solid wood but now features a set .88" effective heel height for all sizes. This was determined to be an optimal height for both weightlifting and CrossFit. I personally did not notice any difference one way or another and the overall feel was "lifted" but not clunky. The cool thing is that if you find you do need a taller heel lift, you can always take these to a cobbler and have them add to the heel since it is made of wood. You can't do that to heels constructed of rubber or TPU.
The sole of the shoe is made of natural rubber and produced a solid grip on all surfaces. I did note that my two pair of white Olimpicos have different color soles; one being a light tan color and the other black. Risto states on their site that they use naturally sourced rubber and the color can vary for the sole. Not an issue for me but just a heads-up that the sole could be either color on your pair.


Finally, the interior of the shoe is another area where the quality really shines. The full interior of the shoe is a soft leather, much like what you would find on an expensive dress shoe. The feel is very close to that of lamb skin and I found it broke-in rather quickly.
The insert is your standard foam with a leather covering over top. After 3-4 workouts my foot had molded nicely into the insert leaving impressions for each toe and one for my heel. Under the insert you will find a solid leather foot bed that provides medium arch support and a medium heel cup.
PERFORMANCE:
I tested these shoes for well over a month before starting my review and I can say that the Olimpico really surprised me with how well they performed. For starters, the shoes are very light and despite having a solid wood heel they only weigh 15.5 ounces (439 grams) per shoe. That makes these and the Adidas Power Perfect 2 the lightest "true" weightlifting shoes on the market.


Another important aspect was the flexibility of the toe box. The Olimpico has one of the more flexible forefoot designs I've worn, requiring less pressure than comparable Adidas and Nike models to achieve a full bend in the shoe.
Throughout my wearing these shoes, I did not note any issues in the way of durability. Being of solid leather construction, I would expect these to last for years. The sole, being constructed of natural rubber, will likely wear down over time but that is a relatively cheap and easy fix for any cobbler.
Keep in mind these shoes are designed for Olympic lifting; they are not intended to be worn for dynamic training or movements such as box jumps, jumping rope or burpees. Stick to your trainers or running shoes for those types of workouts and slip into the Olimpico when it is time to hoist some heavy weight.
FIT AND SIZING:
The sizing of Risto shoes has always been a little weird. First they were using South American sizing that was confusingly similar to EU sizes and now they are using American sizing that skips sizes. Instead of the traditional size 9, 9.5, 10, 10.5, 11 you will find 9 – 9.5, 10 – 10.5 and 11. Because of this I recommend you measure your foot and use the sizing chart they provide to select your correct size.
I typically wear a size 9; that's the size of my Romaleos, Adipower and PP2s. In the Olimpico, a size 8.5 fits without any shifting of my foot inside the shoe. If your sizing is correct, the Olimpico should fit a little snug at first. They will stretch after a few workouts since they are made entirely of leather.
I have low arches and the shoe fits me just fine. I've worn them in the gym for up to 3 hours and had no ache in my arch. The toebox is medium width, measuring narrower at the sole than it does at the actual upper. The leather is reinforced here so they do feel a bit squished at first, but as mentioned, they tend to break in quickly.


FINAL THOUGHTS:
Aside from the sizing nuance and the minor improvements I think Risto could make, this is a very solid shoe. You basically get high performance features and design, socially responsible manufacturing, and a price that comes in below $140. This makes the Olimpico one of the best values on the market right now.
WHERE TO BUY:
Risto shoes are only available directly through Risto Sports. They do offer International shipping as well as custom shoes.
PROS:
Real Wood Heel
Socially & Environmentally Responsible
Quality Materials & Construction
Very Light Weight
Slightly Less Expensive Than Competing Models
CONS:
Strap and Velcro Could be an Issue
No Tongue Loop
Weird Sizing
No Ventilation