INTRODUCTION: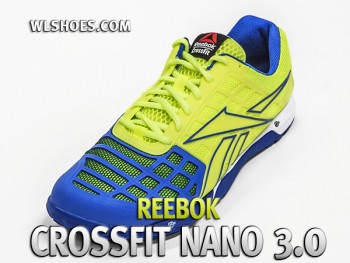 Proving to not rest until they have crafted an all-conquering, all-in-one CrossFit weapon, the Reebok CrossFit Nano 3.0 is the company's latest iteration of the popular trainer.
Reebok really seems to be actively refining this shoe with each generation, and this third version introduces a number of developments worth taking a closer look at.
My first impressions were that this was a good looking shoe that will likely attract plenty of attention. The most notable difference from previous models is the web-like "DuraCage" across the upper. This, combined with the black on red color combo of my test pair gave off a strong "Spider-Man" vibe that was definitely eye-catching.
Like its predecessor had in previous years, this shoe received plenty of play at the recent 2013 CrossFit Games. It's certainly a solid demonstration of the shoe's abilities that three-time champion Rich Froning put them to very good use throughout the games. But how does this shoe stack up for the rest of us mere mortals?
CONSTRUCTION & STYLING:
Straight away this feels like a more substantial shoe than the Nano 2.0 was. It feels a touch wider with the rugged sections feeling a bit sturdier and the other bits as lightweight as possible. You can feel some extra cushioning in the midsole, and also an increased sense of stability, true to the claim of a dual-density construction.
The last Nano was certainly no ultra-tactile lightweight, but this shoe feels even more solid and planted. There is slightly more taper underfoot through the midsection, but overall the sole has similar shape and dimensions as the previous model. The rope-guard with its wrap-around tread remains and this, like the rest of the sole, seems made of an even sturdier rubber compound than before.
Given this potentially less flexible construction the sole features a more segmented design than before with all manner of directional splits for increased flexibility. And for the most part it works – these are very responsive shoes, even given their heft. Speaking of heft, these are a solid 9.7 ounces (275g) in a men's size US 9, compared to 9.0 oz. for the Nano 2, which is about an 8% increase.
The next noticeable change is that the toe-protection is more exaggerated than before. We now have an almost rigid rubber cap across the front which feels super-tough. Even though the previous model had the duragrip toe cap, I've seen a few pairs of Nano 2s with substantial wear across the toes from repeated burpees and the like – I don't see this happening as much on version three.
PERFORMANCE:
I never thought of the Nano 2 as a simple or lightweight shoe, but it seems that way now after wearing the Nano 3 – this is one serious piece of kit! So how does it perform across a broad range of disciplines?
Let's start with the area in which these are likely to perform the weakest; considering previous models this would be running. Similar to the Nano 2.0 this shoe can be a cushy but crashy partner if you're just cruising around the block. Put some pace on and there's plenty of traction but little feel. However the increased sponginess of the midsole makes it pleasant enough for quick 400s in a WOD. That said, you won't set any records with these and I wouldn't recommend them for any serious distance. Put simply – there are much better running shoes out there (something Reebok is keenly aware of, hence the Nano Speed which was recently reviewed here on WLShoes).
These shoes are really "at home" in the gym where they perform without question. Step onto the platform and Oly lifts are executed with more confidence than you can typically find in a trainer. Once again, this is a solid shoe. The grip and stability really leave you with a real feeling of being in control. The rubber outsole is super grippy and smacks down hard on the platform when you get aggressive with a lift. All around they feel more locked-down with the cage construction, almost like a lifting belt for your feet!
When it came to gymnastic movements I found these offered mixed results. The extra-reinforced toe area makes them impervious to bars, so toe-to-bars are a thing of joy. You can let your feet fly at will and worry less about kicking the bar with too much force. But … that same reinforcement tended to smash my toes around on burpees more than I was accustomed to. Something about rigidness of the toe-box meant my foot bounced around more than I expected and tended to hit the toe-cap a lot. This could also be due to the size difference I noted; another reason I believe I should have gone down a half size.
I lieu of the toe smashing effect I modified my style a bit and they are far from unusable, but I'd give the nod to old Nano 2s for burpees, despite the possible longevity issues there. The extra cushioning in the midsole helps when dropping off bars or rings from a height, and the increased weight is not enough to cause any issues.
FIT AND SIZING:
Inside the shoe is a claimed new anti-friction liner – in reality I can't tell any difference. Given the overall construction, purpose and weight of the shoe, they'll never be a first choice for back-to-nature sockless wearing anyhow.
The biggest change on the inside is … the tongue! Miraculously it now stays in place. For some reason the tongue on a Nano 2 migrates sideways within minutes of being laced up, but the Nano 3 is firmly in place all the way to the end of a workout. If you've read any of my previous reviews you'll know how much of a pet peeve this is for me!
The fit is interesting. I grabbed the same size 9 as my Nano 2.0 and found the fit to be quite different – definitely bigger. I've spoken to people who have gone down half a size quite comfortably. I'm hesitant to say they are a solid half-size larger, but there are some clear differences. By my measurements there is some extra length, but at most about 4-5mm. This is enough to be noticeable, but not enough to give the all clear to drop half a size when you order.
What makes me feel like you could, however, is that somehow they are wider also. Well, maybe not according to the tape, but definitely by feel. I've spoken to other wearers to confirm my suspicions, and have finally figured it out. The Nano 2 has a wide last, but then the mesh upper tapers noticeably across the foot.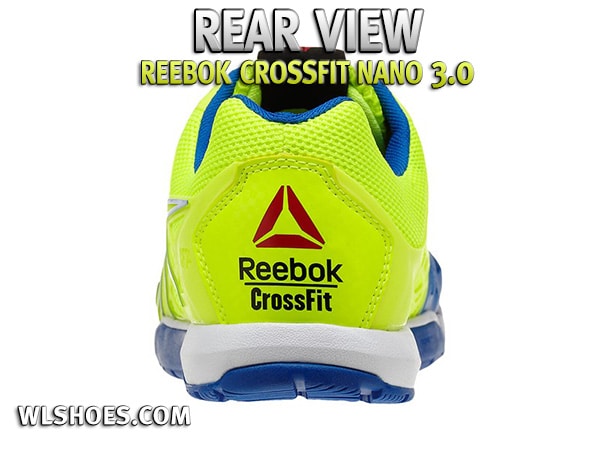 When it comes to the new model, the rubber "DuraCage" upper which runs like a structural web to hold the mesh in place, gives the toe-box more volume. When it's off your foot it actually stays rigid where a normal mesh upper will deflate. From this vantage point, you can clearly see that the upper actually balloons out from the edge of the sole, and then sits higher across the foot. Again, it is hard to measure and maybe only a mm here and there, but just one look at the two shoes side-by-side leaves you in no doubt of the extra space created.
So now that I think about it, I'm pretty sure I could have gone down half a size, but don't hold me to it!
FINAL THOUGHTS:
With so many brands now vying for the attention of the CrossFit crowd, this is a statement shoe. It is a bold entrant that plays heavily on its strengths. Unlike the New Balance or Inov8 shoes which function like an extension of your foot, the Nano 3.0 never disappears. Reebok has managed to make the shoe quite technical while still comfortable. You are always aware of the shoe's presence on your foot, but it does work with you without feeling clumsy.
I have to say, that despite the extra heft and the slight sizing disparity, these have quickly become my default shoe for both coaching and training. Add the fact they look like something Spider-Man would rock out on casual Friday and I'm sold!
WHERE TO BUY:
You can buy the Reebok Nano 3.0 from two locations Shop.Reebok.com and the CrossFit HQ Store. Currently there are a few advantages to ordering directly from the Reebok store in that they offer a few more color combinations AND you can create a totally custom Nano 3.0 – which is pretty cool.
PROS:
Solid Construction
Increased Confidence With Heavy Weights
Good Styling
Likely Very Durable
CONS:
On The Heavy Side for a Trainer
Fit Seems Inconsistent
Not Your Best Friend on a Run