THE REVIEW:
Finally! The review of the Adidas AdiPower Weightlifting shoe I've been promising everyone for over a month now. I apologize for the delay in getting this posted but I wanted to take the time to actually wear the shoes to the gym for a few workouts before I came to my conclusions. So without further adieu, here's my humble "editorial" review.
Since the Adidas AdiStar shoes have been around for 4 years now, many of you have had experience with them or at least know someone who has. I believe a good starting point would be to discuss some of the differences and improvements found in the AdiPower Lifting Shoe when compared to the old AdiStars.
As many of you may know, Adidas launched the AdiStar Weightlifting shoe in 2008 to coincide with the Summer Olympic Games. They've continued this tradition in 2012 but have drastically changed the construction and styling of the shoe, as well as the name. If Adidas sticks to this quadrennial model launch schedule, the 2012 AdiPower will be on the market for the next four years – until 2016.
The original AdiStars were made of a kangaroo leather upper which was very supple and durable, but did not breath well at all. The AdiPowers are made of synthetic upper with increased ventilation to solve the "swamp foot" problem.
Unfortunately, for those of us with wide feet I found the new synthetic material doesn't break-in as fast nor does it have as much lateral give. This means the already narrow (D width) AdiPower is even less forgiving on a wide foot than the former AdiStar model. If you found the width of the AdiStars borderline unbearable, than the AdiPower will not be for you.
After wearing the AdiPowers for a few weeks in the gym, I'm starting to change my opinion on this altogether as well as understand why Adidas has made these shoes so narrow. While they felt extremely tight across the front of my foot in the beginning, they have since broken-in quite nicely and I think the super-tight fit really helps with stability. A size 9 AdiPower measures 3.75″ across the toe box, and a standard D-width shoe should measure 3.9″, making the width actually between a C-narrow and a D-standard. You have to ask yourself "Why would Adidas make the toe-box so narrow?". Again, I believe this was done because they wanted to ensure a super snug fit and an absolute stable foot. If you think they are too narrow consider this – some really large oly lifters like Dmitry Klokov wear the AdiPowers.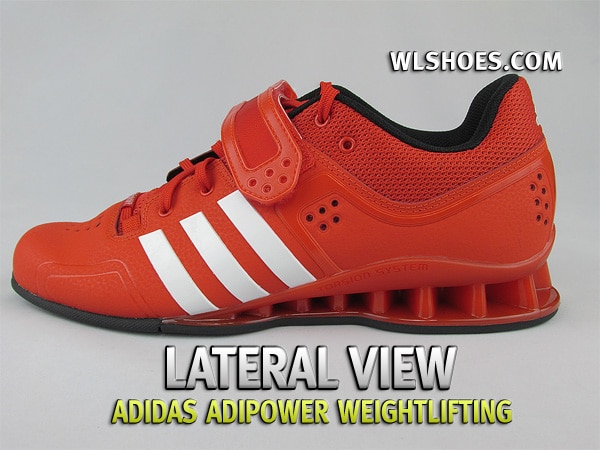 Going back the AdiStars, the tongue of those shoes had an annoying habit of sliding to the side of your foot throughout a workout. This happened regardless of whether you ran the laces through the tongue loop or not.
Adidas has remedied this issue by making the tongue more of a sock liner. It's thin with a stiffer feel and no lateral movement. They have also lined the underside of the tongue with neoprene (squishy black rubber) which serves the purpose of holding your foot in the shoe more securely AND providing cushion to your instep, something you expect the tongue of a shoe to do.
While we're covering the tongue, the old AdiStar models had a common complaint regarding the tongue loop tearing, possibly due to all the force created by the tongue sliding sideways. Regardless, Adidas has redesigned the new tongue loop as a two loop system with a neoprene backing. This should alleviate any durability issues but I have seen a few complaints that the new tongue loop doesn't line up properly with the shoes strings. I didn't have any issues with this personally, but it should be noted.
Finally, the old AdiStars looked identical to some of the other AdiStar Olympic models – most notably their "shooting shoe". This caused confusion among consumers and many folks bought the wrong shoes without knowing there was a difference.
As far as I've seen, there are no other shoes in the Adidas catalog that look even remotely similar to the new AdiPower Weight Lift. This should save people from accidentally buying the wrong shoe on Ebay or Amazon.
The AdiPower Oly Shoe has a single, one inch wide hook and loop velcro strap. The strap is made of plastic with a nylon backing and feels solid as hell – I don't see anyone pulling one of these straps off by over tightening. The strap seems to be the perfect length, and I noted it is placed slightly higher up the instep than the strap on the AdiStars. Personally I prefer a lower positioned strap, but that is personal preference again. You should be aware that the "hook" side of the velcro is extremely "sticky" and will shred your laces quickly if you allow them to come in contact with each other.
Adidas has abandoned the wood block heel that was featured in the AdiStar and IronWork models and has instead opted for a TPU heel much like that found on Nike's Romaleo. I imagine this was done for two reasons – 1) Real wood is expensive to buy, shape and work a heel cup into and 2) TPU is extremely strong and very light.
The TPU heel on the 2012 AdiPower features their Torsion System which is designed to evenly distribute weight across your foot while increasing forefoot flexibility. The heel height is a set .75″ (three quarter inch) for all sizes, just as the AdiStars were.
Overall the shoes are pretty light weight with a size 9 weighing in at 16.2 ounces. Furthermore the shoes are very stable and you feel like an absolute tank while wearing them. My only complaint with these, aside from the narrow toebox, is the lack of color options. The AdiPower is only available in the fiery red-orange-tinged color Adidas calls "Core Energy". The color is certainly unique and very eye catching, but it's a bit ostentatious for my liking – plus it doesn't match any of my clothes!
To sum up, I want to address the question of whether the AdiPowers are worth the $200 price tag. In a nutshell, these shoes have been designed for Olympic Weightlifting and if that is your intended use then these are hands-down worth every penny. Adidas has a long tradition of making weightlifting shoes and the Adipowers are without a doubt the best Oly shoes on the market and will probably remain so until they launch a new model in 2016.
I want to end this review by making a suggestion here that will likely ruffle a few feathers. The AdiPower is an OLY Shoe and is not designed to be used for jumping rope, box jumps, or calf raises. Simply put, if you are not strictly an Oly weightlifter then these really aren't the best shoes for you! If you are someone who implements Oly lifts as part of a larger routine such as CrossFit, or Sports training, you would likely be better served by a more functional shoe such as the Reebok Oly.
The Adidas AdiPower is not a "comfortable" shoe by traditional standards. Most will find it very unforgiving on the body while just walking around the gym due to its extreme rigidity. This isn't a flaw, but the intended design to be a super stable shoe with the only "flexible" area being the toe box. As such, you should only be wearing these shoes IN THE GYM, while lifting.
SIZING:
These run true to size for Adidas shoes and most other athletic shoes. As a reference, I wear a size 9 Reebok Zig, Reebok Oly, Nike Citrus and various other trainers and the size 9 AdiPower fit correctly. Adidas states that these are a D width which is commonly known as standard width; however, I feel they are a bit tighter than other D-Wide shoes.
WHERE TO BUY:
If you've read any of my previous reviews you know I make a strong argument for buying directly from the manufacturer when possible. I especially feel this way when it comes to buying the AdiPower Weightlifting Shoe. Buy these from Adidas.com for a couple reasons such as free shipping, excellent customer service and very easy returns with the included RMA form and shipping labels. If you do need to return these you don't even need to contact anyone. Just fill out the RMA form and use the return label to ship them back. I received my refund for a returned pair of shoes in about 2 weeks.
CONTRIBUTE:
If you have any questions or thoughts that I haven't covered about the Adipower shoes, please leave a comment. Likewise, if you have a review or personal experience with these shoes then leave it below as well.
PROS:
Lightweight
Breathability
Extremely Stable
Very Flexible Forefoot
Various Improvements Over AdiStar
CONS:
Expensive
Narrow Fit
Limited Styling Options